MAKAM was formly since February '95 on the river of the king, Solo, first fluttered banner as band tytle was SUCKER GRAVE, it was consist of fifth nocturne insane creatures, PETRUS (V), DJOMBOTH (G), ZEPHYRI (G), CHRIS (B), JULIOUS (D). There are too much influence in our scene from those past, but NORTHEN BLACK/DEATH METAL was like single chandellier in the dark of our minds. After gathering in first season, more than seven months SUCKER GRAVE has got vision changed his name in October 28th 1995 become MAKAM, means sanctuary. They has keep fighting in two years hunting to exist & searching the visions, then DJIWO T . REX (ex-SACHRAL) was join as back voc later. March 31th 1997, ZEPHYRI has released our brotherhood and followed with CHRIS survived to the downtown. The band has sloth vacuum after releasing first demo "SYMPATHY FOR THE BEAST" ep-97. After long trip of extreme fest & gigs over, the band try hard looked for a new vision such in many gig used additional mucisian rebels, BONIE and MBENDHUS on vox/bass as long several gigs, and in early 1999, born a new spirit of coronations under the outsiders rebels, a phenomenon of movement that Underground wasn't system only, it's a totally lifestyle/attitude. May 13th 1999. Australian Selva Oscura Newsletter interested pick our badge into their movement newsletter as a symbol of origin art naturecare, finally known as wong MAKAM, the Clan.
Y2K, Celebrate a millenium which we known as "gate" of openminded era, wong MAKAM dedicated all these movement supports to the nature MAKABRE AMULETHA…an underworld the forgotten.
Last hemoglobiens are DJIWO T. RATRIARKHA (V), PETRUS ARCHWINTER (B), DJOMBOTH ANDREAS (G), JULIOUS (D).
RELEASED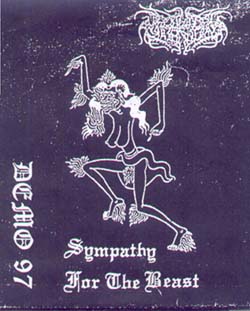 SYMPATHY FOR THE BEAST
Demo cassette ( self-released )
Track List :
- INVOCATION
- ENDEH ( THE DANCING FLAMES )
- DJENGLOTH'S CADAVER
Line-up:
- Djiwo T. Ratriarkha (Vox)
- Jomboth (Guitars)
- Archwinter (Bass)
- Julious (Drums)
Info :
Released date : October 28th 1997.
All verses & lyrics by Djiwo and base on the unholy palm leaf manuscript.
All musics by Jomboth and Djiwo.
Cover art taken from ancient Balinese witchraft manuscript.
INVOCATION taken from lucifer prophecies chapter ( F 13th ).
Produced and Management by Julious.
Enregistered & Mixed at Biru Studios.
Solo, Indonesia in last fullmoon 1997.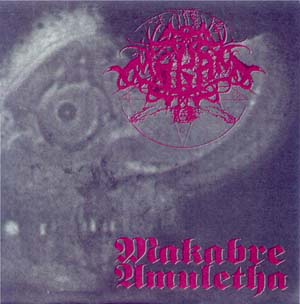 MAKABRE AMULETHA
Demo-CD ( self-released )
Track List :
- SLOTH CHANDELLIERS ( epilogue )
- ENVIOUS CHAOTIC FEVER
- DIABOLICAL GLUTTONY
- BESTIAL WARPRIDE OF PAREGGREG
- SANGHYANG PRAMONY LUSTORGIES
- QUILLS THE GREED
- WRATHFUL CORONATION ( outro )
Line-up:
- Djiwo T. Ratriarkha (Vox)
- Jomboth (Guitars)
- Archwinter (Bass)
- Julious (Drums)
Info :
Released date : August 5th 2001.
All musics and Poetries by wong MAKAM.
Epilogue & outro by Djiwo and featuring a tantric poet. Datu in epilogue.
Post Blackminded art cover by Djiwo T. Ratriarkha.2203.A.D.
Recording in Hijau Studios, Central Java oct 28th 2000. Ann Party.
Enregistered & Mixed in Biru Studios and Aries.
Produced & Management by wong MAKAM's Clan.
For fuher infos, band contact & management
Please contact these address bellow
( include perangko or 3 IRC for sure replay !!! )
JULIOUS NURENDRA
Jagalan 1/14, Jebres
SOLO- 57124, CENTRAL JAVA
INDONESIA
Email: wongmakam@lycos.com
elder_ratriarkha@yahoo.com
---